Back in 2014 I decided to take Julie Haymaker's "Let's Go For A Ride" class at Artful Gathering. The project called for making an adorable little mixed media shadow box scene with 3 pets sticking their heads out the window of a car that was driving over a hill. The class looked like it would be a lot of fun to take so I decided to take it.
A kit was available for purchase from Julie's Etsy shop so I ordered one as it's a lot easier to do that than run around to get supplies. The kit came with everything you needed to create the project including thread and needle. It was fabulous.
Well, in looking at Julie's kits for sale she had some unusual unfinished wood pieces for making several different types of mixed media dolls.  Julie is a remarkable mixed media artist who has an eye for unusual art doll creations and her unfinished wood kits were available as a tool to help you with this. So, of course I bought a few.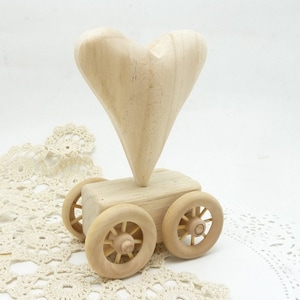 I've used a few over the years when the application seemed to fit something I wanted to create.  I used the heart and wood carriage above for my "Don Juan Romeo" mixed media art doll creation that I created this summer.