I just love dolls and handmade crafts of all sorts, shapes, and types. I love creating, designing, and decorating with my doll & craft creations. My Linda's Blog is about my handmade dolls, handmade crafts and everything I love to do. I also love to do research so there might be a little of that thrown in from time to time.
Linda's My Free E-Patterns, E-Printables, & E-Books
Sunday, January 25, 2015
A beautiful surprise from hubby. How can you not love mother nature at her finest?
Saturday, January 17, 2015
I couldn't wait to bring Penelope home. She was a beautiful wooden rocking dog that my brother had made for me. He had made one for our new grand nephew and I had loved it so much I, of course, wanted one.
When I told my brother this hubby gave me a look of "you've got to be kidding. Where are we going to put that?" I, of course, gave him a look of " I have someplace in mind. You'll see."
So, baby brother made me one and we were bringing Penelope home today.
We had just gotten home and hubby had just brought Penelope into the house and placed her in the dining room when I heard the cabinet doors opening and closing - followed by someone running.
I knew it wasn't hubby as he was outside and I was the only one in the house. Who was opening and closing the cabinets doors then? Worse, who was running? A burgular? YIKES! I hoped not.
So I went and looked. One of the cabinet doors was slightly ajar so I knew the "dollies" were up to something - but what? It wasn't a burglar. It was one of the "dollies."
When I went back into the dining room this is what I found....Adrienne was sitting on top of the doggie.
Thursday, January 01, 2015
Since I had just finished my
goddess dolls
after being on the back burner for seven years I decided to see if there was any more information out there on them now.
If you've been following along on my blog you know that I love goddess dolls and have been wanting to create some of my own since February 2009 when I bought several mixed media goddess doll bodies and which I finally finished in 2014 -
Update To My Goddess Doll Adventure - After Seven Years They Finally Came Into Being
.
In February 2015 I updated some of the goddess information in an article on my Victorian Dolls, Victorian Traditions, The Victorian Era and Me Blog entitled
The History Of Faceless Dolls - Updated February 2015 - Part VII - Goddess and Spirit Dolls.
This time I wanted to see what information was available so you could create a goddess doll of your own. Here's what I found:
"an artist, author, teacher, and retreat leader who inspires and helps lovers of Mama Gaia to lead wholehearted, creative, and soulful lives"
created a wonderful free "How To Make A Spirit Doll" PDF which can be downloaded
here.
If you would like to learn more about Joanna please visit her her
Gaian Soul
website
.
Lyn Belisle is an amazing artist, teacher and author who teaches several online classes, including ones at Artful Gathering, showing how to make goddess and spirit dolls. If you would like to read her Shards blog please
click here.
She also offers and amazing amount of free video's, like the ones shown below, on her
Lyn Belisle YouTube channel
showing some of her spirit doll workshops and the creations made.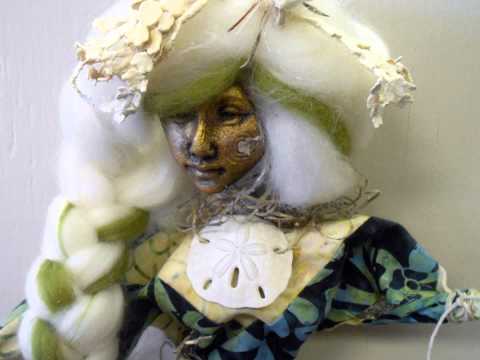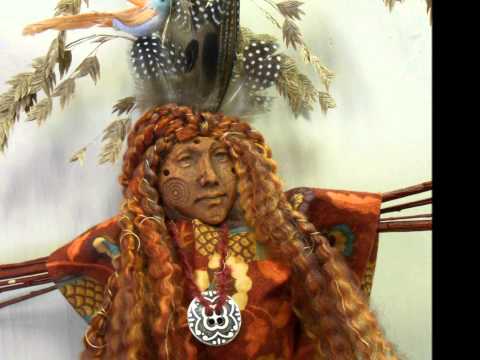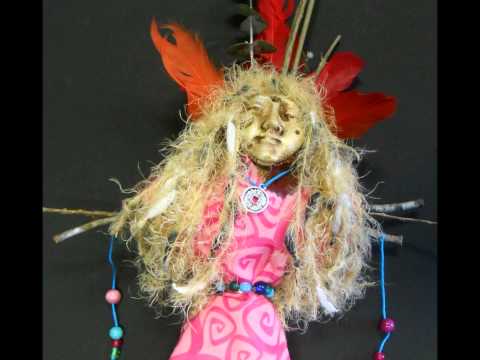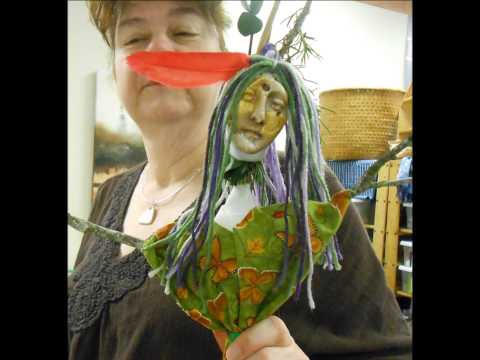 If you would like to learn more about Lyn's online classes, workshops, and dvd's please
click here.
The Healing and Tranformative Dolls
website provides information on e-classes and e-books by art doll artists who create healing dolls such as: Barb Kobe, Pamela Hastings, Erika Cleveland, Joy A. Kirkwood, and Anne Reeder Heck.
They also have a wonderful blog index that provides amazing pictures of healing dolls created by some astonishing healing doll artists as well as links to other information about them.
Click here
for the "
The Art of Healing Dolls Healing Dolls and Healing Stories by Dollmaker Barb Kobe and Other Healing Dollmakers"
blog. If you're looking for inspiration this is a great place to start.
Gretchen Lima is an award winning art doll artist who teaches workshops on creating her healing and spirit dolls. Her
Gretchen Lima
website also offers a
store gallery
of her own spirit dolls for sale, information on her
workshops
, and
kits and supplies
for spirit doll making.
Silver RavenWolf has a tutorial on her Silver RavenWolf blog entitled
"How To Make A Spirit Doll — The Journey of Magickal Design"
which shows you how to make the cloth spirit dolls shown above.
Crafting a Magical Life: Manifesting Your Heart's Desire Through Creative Projects
by Carol Holaday published in 2009 by Findhorn Press, Scotland is a book about magic, creativity, and finding your own creative process through the powers of your mind.
According to Carol,
"Whatever it is you want to create first begins with your thought. By investing your energy in your creation, you are giving life to your creation through a huge concentration of power born of that desire."
Also, according to Carol,
"Goddess dolls were created primarily for magical purposes, to honor the energy of the Goddess and to serve as a repository for that energy."
In Chapter 11 Carol talks about her own Goddess doll adventures and provides instructions and a template for creating your own goddess doll, like the one shown in the picture above.
If you love to crochet there is a free
Goddess Doll pattern
by Catriona Allen-Bryce on
Ravelry
for making the crocheted goddess doll shown above.
There is a wonderful
Spirit Doll tutorial
by Chris Flynn on the
Redwood Mountain Musings
blog showing how to make the beautiful spirit doll in the picture above.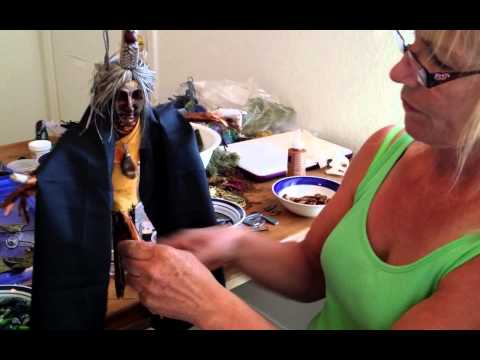 Chris Flynn is an artist who make the most beautiful spirit dolls. She also offers the video, shown above, on her
Chris FlynnYouTube Channel
showing how her
Sacred Sisters Spirit Dolls
are made.
If you want to make paper art doll goddesses Kimberly Crick has three printable templates for making paper goddess dolls, one of which is shown above, on her
The Enchanted Gallery
website.
Click here
for her instructions, templates and terms of use.
Creativity-Portal
has a how-to for making the spirit doll shown above.
Click here
for the
Creative Spirit Doll Pattern
by Violette.
Marcia Acker-Missall, who is an artist and art teacher, has a pattern for sale on her
The Potted Frog
website to make the
Spa Goddess
shown in the picture above. Here's what Marcia had to say about her,
"Spa Goddess was published in Belle Armoire magazine and by special invitation she was on display at Houston Market 2002 in the special exhibit "In Celebration of the Doll."
.
Marcia also has a free Healing Goddess Pin Doll pattern on the
Doll Street Dreamers
website.
I also found several books that include inspirational pictures of goddess dolls made by mixed media and textul artists as well as some instructions for making goddess dolls of your own.
Art Dolls (Twenty to Make)
and
Wild Women: Stitched Art Brooches (Twenty to Make)
, both written by Sarah Lawrence include several references to goddess dolls.
Art Faces in Clay: Dolls, Altered Art and More! (Design Originals)
includes how-to's and inspiration for making goddess dolls using Maureen Carlson's designer push molds.
Art Doll Adventures
by Lisa Li Hertzi
is a delightful book that explores art dolls and cultural traditions around the world. According to Lisa, "
Making dolls with the help of culturl icons brings instant meaning into your work. Your creative flair is of the twenty-first century, but the ideas are primitive and musty with the smell of the eart and they are not just yours, they are everyone's. They are in our blood and they connect us.
"
Lisa also has an
Angel Goddess Doll
pattern for sale on the
Doll Street Dreamers
website that makes 3 different versions of her angel goddess doll shown in the pictures above.
Making Gourd Dolls & Spirit Figures
by Ginger Summit is a wonderful book filled with pictures of beautiful gourd creations from 100 gourd artists as well as original projects to make gourd dolls and spirit figures of your own. Check out the Spirit of Spring, Spirit of Summer, Autumn Spirit In The Tree, and Spirit of Winter projects for projects to inspire you.
Soul Mate Dolls
by Noreen Crone-Findlay offers inspiration and instructions for making 3 dozen different healing dolls. According to the description,
"The author shows you how to open doors to creativity, healing, and wholeness by making dolls that express their feelings, desires and ideas."
No mattern what type of goddess, spirit or healing doll you choose to make they all promote aspects of femininity, humanity, spirituality, compassion, humility, healing power, beauty, love, wisdom, peace, passion, truth, strength, intuition, fulfillment and empowerment. The goddess is seen embracing all aspects of life, all seasons, and all natural elements and goddess dolls represent all of her various aspects.
Today's "goddess dolls" are there to share your hopes, dreams, and listen to your fears. They provide comfort and solace in your time of need. They provide you with the strength you need to face the challengers in your life and empower you to succeed. To release your own "inner goddess." They are lovingly made and given out of heartfelt love from one human being to another. They offer nothing more than love, compassion, understanding, and peace.